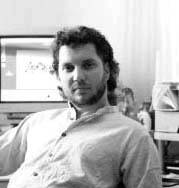 I started out in computer graphics about thirteen years ago, then in 1988 decided to pursue it professionally and became a freelance Quantel Paintbox artist for video production. Also about this time I dove into high-end desktop computer graphics and publishing with Apple's introduction of the color Macintosh and started my own studio InkSpot Designs - "Digital Illustration & Magic". A continually growing venture currently boasting over 20 awards on both local and district levels as well as being Nationally Published in two books. All while studying Radio Television & Film at Temple University in Philadelphia in their Communications program and taking a couple computer graphics courses at William Patterson University in Patterson NJ - however I consider myself to be primarly self-taught.
I have been working with the Macintosh and other platforms in a freelance "gun for hire" capacity since then. Using a number of different styles and software packages my capabilities now cover a wide range and include many techniques and aspects of digital production for print, video, or on screen viewing.
Check out Michael's website at http://www.inkspotdesigns.com !
bonnet house reserve

blood star
(a work in progress)

gulfstream media guide

motorola IDEN

fountain of youth
(a work in progress)

sea ranch gifts

the lure of money
(a work in progress)
You can contact Michael at mdc@inkspotdesigns.com.
All images copyright © 1998 Michael D. Colanero. All rights reserved.